Reading with a Pencil is about text: reading it, editing it, enjoying it.
The notion of "reading with a pencil" has two sources: first, the tradition of annotating the text as an element of close reading; and second, the habit of the editor to review a manuscript with pencil in hand to mark up editorial changes. Both styles of reading shall pertain herein, as I regularly read with a pencil, pen, or highlighter in hand.
A professional hazard, one might say.
---
Recent Reviews
I Am a Meadow Mermaid
Kallie George, words; Elly MacKay, pictures
Tremendous Things
Susin Nielsen
Little Wolf
Teoni Spathelfer
---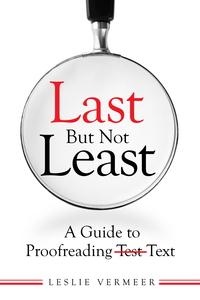 Coming Soon — 2022
Last But Not Least
A Guide to Proofreading Text
Leslie Vermeer
Publisher — Brush Education
Nothing is more infuriating than working hard on an essay or work report, only to realize you let an embarrassing typo slip through after you've submitted it. Proofreading is hard work, and often left until the final hours or minutes before a deadline, so it's easy to slack off on this final step—but proofreading doesn't have to be as hard as you think, especially if you know how the pros do it.
Last But Not Least is a combination primer and workbook to teach you the specific skills you need to find grammar gremlins, typos, and other slips that mar your copy and compromise communication. Whether you're a student or a teacher, an administrative assistant or a communications specialist, a novice in the field or a seasoned professional, the techniques and processes in Last But Not Least will help you create perfect documents.