My Books
Coming 2022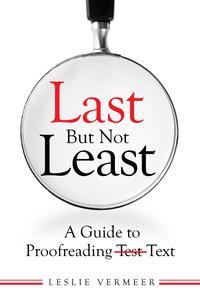 Last But Not Least
A Guide to Proofreading Text
Leslie Vermeer
Publisher — Brush Education
$19.95 — print
$11.99 — ebook
Pages — 160
Binding — Trade paperback (US)
Dimensions — 6x9 in
ISBN Print — 9781550597875
ISBN eBook — 9781550597905
Last But Not Least is a combination primer and workbook to teach you the specific skills you need to find grammar gremlins, typos, and other slips that mar your copy and compromise communication. Whether you're a student or a teacher, an administrative assistant or a communications specialist, a novice in the field or a seasoned professional, the techniques and processes in Last But Not Least will help you create perfect documents.
Nothing is more infuriating than working hard on an essay or work report, only to realize you let an embarrassing typo slip through after you've submitted it. Proofreading is hard work, and often left until the final hours or minutes before a deadline, so it's easy to slack off on this final step—but proofreading doesn't have to be as hard as you think, especially if you know how the pros do it.
Topics include
Punctuation and mechanics,
Grammar basics,
Spelling, including common typos and substitutions,
Proofreading visual communication,
Proofreading to make sense.
---
Coming Soon: Currently Under Review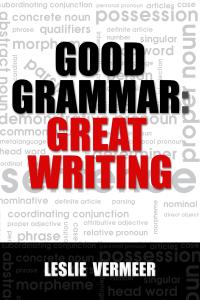 Good Grammar: Great Writing
Leslie Vermeer
Publisher — AFM Publishing
Published as an open source text book under a Creative Commons Attribution-NonCommercial-ShareAlike 4.0 International License
Free — ebook
Free — pdf
290 pages
Good Grammar: Great Writing takes readers through various lessons in conventional English grammar, supported by numerous examples and exercises (with answer keys). Content discussed includes parsing, sentence structure, sentence-level errors, agreement, modifiers, and parallelism. The text is pitched at the first- or second-year postsecondary level.
---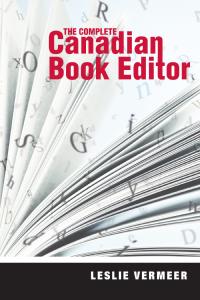 The Complete Canadian Book Editor
Leslie Vermeer
Publisher — Brush Education
$49.95 – print
$39.99 – ebook
Published 2016
400 pages
Trade paperback (US)
6x9 in
ISBN Print 9781550596779
ISBN eBook 9781550596809
This practical resource goes where style guides don't to prepare you with the skills you need for a career as an in-house or freelance editor. Get that job by learning how to position yourself for potential employers and clients.
Book editing involves a whole lot more than proofreading. From acquiring manuscripts to managing author relationships to marketing, editors play an integral role in the day-to-day operations of a publishing house. With activities and exercises throughout the book, you'll reinforce key concepts and learn how to think like an expert editor.
Topics include
The nuts and bolts of manuscript acquisition and book contracts
Elements of editing a manuscript and the elusive concept of style
The design and production process, including digital workflow
Important marketing functions every editor should know
The future of publishing and why editors are more important than ever before
An overview of the state of the industry in Canada