Review
About That Night
Norah McClintock
Orca Book Publishers, 2014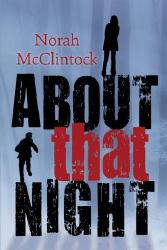 About That Night is a suspenseful, fast-moving mystery that will hook readers from the very first page. An elderly woman wanders away from her home during a snowstorm, apparently very confused and very frightened. At the same time, boyfriend and girlfriend Derek and Jordie are quarrelling about a bracelet Jordie's ex gave her. Jordie thinks Derek has stolen it out of jealousy; Derek sets off for home in the storm to retrieve the bracelet and prove his innocence. That's the last night of Derek's life. Who would want to kill such a promising young man? And what a horrible coincidence that his next-door neighbour — the woman who wandered away — is now also dead. Very soon, Jordie must figure out who's responsible for Derek's death and who she's willing to protect.
The novel moves like a film, cutting rapidly from scene to scene and character to character. The text is masterfully executed, with all the hints and red herrings a good mystery should offer. The characters are fairly standard figures, but the author has given them some complexity and nuance; there is also marked sophistication to the various story elements. The romantic conflicts at the centre of the novel may draw in YA readers who wouldn't normally read a mystery, and the breakneck pace should keep them engaged. Avid mystery fans may connect the plot details before the characters themselves do, but even then various twists and turns will keep readers guessing right up to the last sentence — and maybe after.
Norah McClintock is a talented writer, and this taut, deftly plotted novel is an excellent choice for mystery readers, readers who prefer a high-action plot, and anyone who enjoys a well-told story. I highly recommend this novel.
This review was originally published in Resource Links in October 2014.