Review
Every Man Dies Alone
Hans Fallada
Melville House, 2009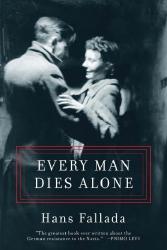 Every Man Dies Alone is disturbing, engrossing, and powerful. Based on the real experiences of a married couple's resistance to the Nazis, it is an insightful story of love, standing up for one's beliefs, and the atrocities committed by power that is fed by fear.
Enno and Anna Quangel are middle-aged, working-class Berliners whose son is killed in France. Together they launch a private war against the Führer, dropping anonymous postcards around Berlin in an attempt to expose the Nazis as insane bullies and destructive liars. As their campaign advances, their lives entwine with dozens of other Berliners' in unimaginable ways, some compassionate, some desperate, some despicable. Their commitment to resistance is tested again and again, but Anna and Otto demonstrate how vital to human being are integrity, honour, kindness, and courage.
The novel evokes consistent tension in the reader; it also speaks with immediacy and an almost ultra-real level of detail. The action is relentless, unflinching. Readers may find the novel reminiscent of Marge Piercy's Gone to Soldiers (1987) in its entwining of various plots and of Ursula Hegi's Stones from the River (1994) in its look at the daily lives of Germans under Nazism, but it is stylistically distinct. The author uses some interesting technique in tense shifting to bring the reader into the moment of the action, and the diction is exquisitely managed to enrich character, setting, and situation (kudos to the translator!).
This is a long novel — some 500 pages — but it moves extremely quickly and kept me consistently wanting to know what would happen next. The footnotes and afterword are nice touches. I was not familiar with some of the more obscure elements of Germany society under the Nazis, and greatly appreciated learning more about the author, Hans Fallada, whose work is new to me. This is a masterful novel, and learning that Fallada wrote it a matter of weeks makes it even more impressive.
Anyone interested in the Second World War, social justice, or the psychology of fear should enjoy this novel, as should anyone who simply wants a compelling read. It is extremely well written and will leave a reader with much on which to reflect.