Review
Stepping into Traffic
K.J. Rankin
Thistledown Press, 2016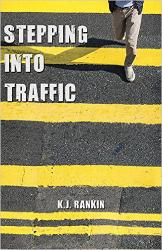 If you're looking for a new book to get teens back into the habit of reading for pleasure, you won't go wrong with Stepping into Traffic by K.J. Rankin. Published by Saskatoon's Thistledown Press, Stepping into Traffic is a sensitive young-adult novel about bad choices and second chances.
Sixteen-year-old Sebastian Till stands at a turning point in his life. We meet him in the middle of a shoplifting spree, which ends when he and his friends are caught and charged. A veteran of the child-welfare system, Seb soon finds himself in his eighth foster home in eight years — and it's his last stop if he wants to avoid a group home, or worse, homelessness. Mrs. Ford, his new foster parent, seems cool, but Seb's not prepared to trust her, not after the things he's seen in other settings. Still, Mrs. Ford feeds him well and gives him space — which he uses to get into more trouble in the guise of a high school drug dealer and his friends. Can Seb find the inner resources to make the changes he knows he needs? His small clutch of new friends, which include a stray dog, may not be enough to help him make the right choices.
This is a tense, moody novel with an identifiable voice and a clear-eyed perspective on the numerous pressures teens face. It touches on bullying and status, playing to teens' exquisitely tuned sense of the school pecking order, and deals frankly with underage drinking, recreational drug use, and young men's violence. The plot is suspenseful: each of Seb's misadventures ups the ante, whether he's risking being sent to a group home or facing a beating from a gang member. Readers may fear for Seb's life, but will also root for him because we know that beneath his raw exterior there's a good-hearted but sometimes confused kid. Rankin has found a protagonist whose perspective is often overlooked in YA books, but he's an identifiable, approachable, and ultimately likeable character.
Stepping into Traffic is a strong YA novel presented with a fresh point of view and a compassionate theme. It would make a great addition to home libraries and will likely be a popular choice in school and classroom libraries.
This review was originally published on www.skbooks.com .