Review
A Semester in the Life of a Garbage Bag
Gordon Korman
Scholastic Canada, 2012 (originally published 1985)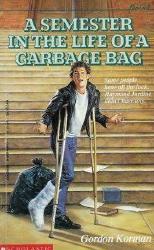 In this madcap romp of a novel, the life of Sean Delancey, popular high-school basketball captain, changes forever when Sean meets Raymond Jardine. Luckless Jardine, as he refers to himself, is scheming to join a school-sponsored trip to Theamelpos, a Greek island notable for bringing fabulous good fortune to those who visit. In their joint quest to reach Theamelpos, Sean and Jardine interact with a cast of colourful characters, including Sean's 88-year-old grandfather who's impersonating a long-dead Canadian poet. Meanwhile, SACGEN, a precarious experiment in electrical engineering, is threatening to destroy the school itself. Will Jardine get to Greece? Will the generator blow its top? Will someone spill the secret of Gavin Gunhold? And will we ever learn what "vub" means?
This newly reprinted novel is a brilliant farce. It's laugh-out-loud funny and, as with most Gordon Korman novels, highly accessible and engaging. It also offers a few moments for reflection: in some of the adult characters' manic and oblivious faith in better living through technology, for instance, or in Sean's grandfather's remarks about his age and interests. Sean, Jardine, and their friends (and enemies) are witty and appealing, if stereotypical, characters, and as the events of their lives whirl increasingly out of control, readers will be caught up in the romance, intrigue, and outrageousness of the many ridiculous situations the characters find themselves in. Moderating the fast and furious pace is a generous sprinkling of truly appalling poetry.
In a few scenes, A Semester in the Life of a Garbage Bag shows its age, referring to objects or actions that will likely feel dated or confusing to today's young readers. But the comedy is delightful and the writing is wickedly fast and sharp. I highly recommend this novel for middle-school readers who enjoy comedic writing and for adult readers who missed the book when it was originally published. It's silly, giddy, slapstick fun.
This review was originally published in Resource Links on February 2013.