Review
Showtime: Meet the People Behind the Scenes
Kevin Sylvester
Annick Press, 2013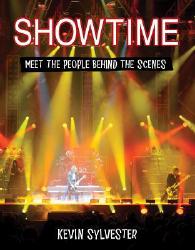 Thanks in part to the increase in large-scale touring productions like Cirque du Soleil and Broadway Across Canada, today's kids are much more likely than their parents were to attend live performances like concerts, musicals, and plays. Showtime introduces a range of diverse and fascinating people working behind the scenes to make live stage experiences fun, safe, and memorable.
Kevin Sylvester writes in a clear voice, at an accessible level, without talking down to readers. The book is presented as a series of profiles of people working in various sub-sectors of the performing arts. Profiles include a set designer, a pyrotechnician, a choreographer, and a costumer designer, among others. But the book doesn't examine only stage craft; it also looks at jobs like tour driver, promoter, and graphic designer, and shows a balance of men and women in backstage and front-of-house roles. Certainly, not every stage-related option is listed, but there are more than enough intriguing, creative, dynamic jobs mentioned to fire anyone's imagination.
The book is appealingly presented with full-colour photography of the workers profiled and their work environments. The profiles are compact but loaded with detail. The main text is supported by numerous sidebars, and every profile wraps up with tips for readers who can envision themselves doing similar work in the future. I particularly liked seeing manual jobs being presented — and valued — alongside more white-collar jobs. My one minor concern with the text was the abruptness with which it ended: I would have been happy to read a few more profiles. I would also have liked to see a little more back matter, such as a list of resources for further reading and research.
This is a great book for introducing students to the numerous jobs available in the performing arts beyond being a performer. As our economy continues to evolve, there are more and more opportunities to work in the cultural industries, and this book provides an excellent introduction to some of them. I strongly recommend this book for inclusion in school and classroom libraries.
This review was originally published in Resource Links on June 2013.