Review
A Day of Signs and Wonders
Kit Pearson
Harper Trophy, 2016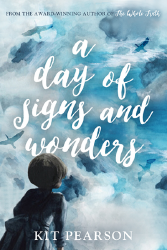 A Day of Signs and Wonders_ imagines a meeting between two Victorian daughters: Kitty, who grew up to be Kathleen O'Reilly, best remembered today for her home, the Point Ellice House historical site; and Emily, who grew up to be Emily Carr, one of Canada's most identifiable painters. On the day of their fictional meeting in 1881, Kitty is a sad thirteen-year-old, devastated by the loss of her younger sister. Nine-year-old Emily runs into Kitty while Emily is making an early-morning escape from her crabby guardian. The juxtaposition of Emily's energy against Kitty's reserve produces a beautiful play of contrasts in a complex, richly woven text that will appeal to anyone who enjoys historical fiction.
From the first moment readers meet Emily, she is portrayed as earthy and unconventional. This passage, from the third page of the book, captures both the author's style and one of the book's key themes:
     A spider's web stretched from the gatepost to a lavender bush. The droplets on its fragile strands made a perfect pattern of shimmering beads. The day was brand new, like a piece of clean paper waiting for someone to draw on. Despite the bright sun the air was chilly, but Emily didn't care. She had escaped!

She began stamping along the road, her feet raising clouds of dust. She wasn't wearing shoes, a hat, or her petticoat … she wasn't even wearing undergarments! …

I'm free! gloated Emily. Free of stern Mrs. Crane, free of failing miserably to behave.
Emily despises the restrictive clothing she wears as a young girl, particularly her pinafore (which becomes an element of the plot). She also enjoys food and responds strongly to beauty and sensuousness. She feels her emotions unreservedly and speaks her mind freely — indeed much too freely for the uptight Mrs Crane, who is watching Emily and her sister Alice while their mother recovers from a serious illness.
Kitty, on the other hand, reads as dreamy and ethereal, but is desperately sad. Yet something about Emily's wildness appeals to Kitty, and she invites Emily to spend the day with her. Kitty has largely internalized her lot as a Victorian female, but she's struggling: with her sister's loss, with her own imminent departure for boarding school, and especially with a future that will pull her away from the home she loves. As the girls play and get to know each other, they reveal more about themselves and their fears, creating a gently literary experience for young readers and offering moments for readerly reflection and insight.
A Day of Signs and Wonders is an accomplished book by a talented author. It should be a high-priority acquisition for school and public libraries, and will make an excellent addition to classroom libraries. It could easily be taught as a novel study, or used as an independent novel with a strong upper-elementary reader, particularly one who is ready to leap beyond the Little House series and into Anne of Green Gables or similar books. The novel will stand up well to re-reading, and its layers of imagery and patterning will reward the attentive reader.
It is also, incidentally, a physically lovely book; the cover is delicate, almost airy, and the French flaps evoke an older style of publishing, a book that is special, even precious (although some boys may not respond well to it). The map at the front of the book is a great artifact for readers who have visited present-day Victoria. They can try to map their own visit on Emily's Victoria; key landmarks will help with orientation.
A Day of Signs and Wonders is one of my favourite middlegrade books of 2016. I strongly recommend it.
This review was originally published in Resource Links on December 2016.