Review
Bloom
Kyo Maclear; illustrated by Julie Morstad
Tundra Books, 2018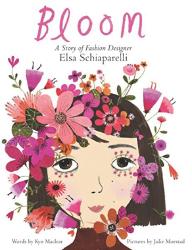 Bloom is an utterly gorgeous book about art and imagination. Young Elsa suffers in her strict conformist family; she dreams of flowers, colours, beauty. As a young woman, an opportunity takes her to Paris, where she finds her passion: making clothes for women. Today we recognize Elsa Schiaparelli as a leading Modernist fashion designer and an inspiration for artistic girls everywhere; Bloom takes readers on the journey of how Elsa got there.
I just loved this book. One of Canada's strongest writers of picture books, Maclear tells this story with compassion and insight, reminding readers that "To be an artist is to dream big and risk failure." The story is generously complemented by Morstad's illustrations. The pictures are whimsical, detailed, and breathtaking — and of course they feature Schiaparelli's famous Shocking Pink.
This book is a treat. It's a physically beautiful object that tells a delightful and inspiring story, perfect for anyone who has big dreams or encourages others to follow their own dreams — those who "want to DREAM and DO bold things."
This review was originally published on LibraryThing on April 29, 2018.