Review
Great
Glen Gretzky and Lauri Holomis, Illustrated by Kevin Sylvester
Puffin Canada", 2016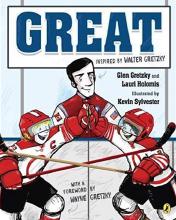 Great is a cute book about grit, determination, and staying focussed. When Taylor is recruited to a team by Coach Wally, he is intimidated by a blond-haired star called Wayne. But Coach Wally reminds Taylor that he is the star of his own game, with his own skills and talents that make him great.
Great offers a charming selection for any early reader who loves hockey, loves sports, or needs to remember that we are all great in our own ways. The illustrations are wonderful: comic-style yet thoughtful and rich in detail. And the book's connection to hockey's Great One, Wayne Gretzky, by way of the foreword, completes the package. GREAT is a smart seasonal pick.
This review was originally published on LibraryThing on November 19, 2018.