Review
Mary Who Wrote Frankenstein
Linda Bailey
Tundra Books, 2018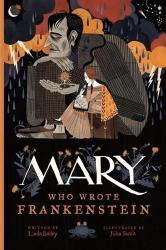 "Here is Mary. She's a dreamer." So begins this glorious elementary-level biography of Mary Shelley. Mary Who Wrote Frankenstein is a delightful book that tells the story of Mary Shelley in a way that's relatable for young people, emphasizing Mary's youth, her difficult relationship with her family, and how receptive she is to the world around her. Linda Bailey's prose is lilting, spacious: it makes room for readers and invites us to join the story. "How could a girl like [Mary] come up with such a story?" she asks rhetorically. "But you may know."
Júlia Sardà's illustration style perfectly suits the story of the dreamy, sometimes troubled Mary Shelley and her creative spirit. The pictures are dark and broody, full of spooky shapes and gothic imagery. The backgrounds are muted greys, browns, and black, while bright but intense images appear in the foreground. The whole package is very appealing and apt.
Mary Who Wrote Frankenstein makes a fine complement to Bloom (Kyo Maclear's 2018 book about Modernist fashion designer Elsa Schiaparelli), which also profiles a creative and "difficult" young woman. Both books reassure kids — especially girls — that it's OK to see the world in ways that others don't. As we move through a turbulent period in our culture, books like these offer a poised and forthright strategy for helping readers to develop confidence, resilience, and determination and to meet the future with strength and security.
Timed to coincide with the 200th anniversary of the publication of Shelley's novel, Mary Who Wrote Frankenstein is an outstanding example of the thoughtful, beautiful nonfiction picture books being published today. It is sure to inspire would-be writers and other imaginative minds. I heartily recommend this book for any library, public or personal — adult readers will enjoy it, too!
This review was originally published in Resource Links on October 2018.