Review
Eight Times Up
John Corr
Orca Books, 2019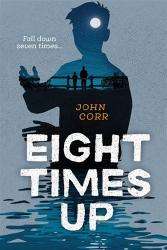 In Eight Times Up Riley starts aikido to deal with anxiety after his mother leaves the family. Aikido is intimidating, and so are the other kids in the dojo. Initially Riley's many mistakes fuel his anxiety, but little by little he gets better at both aikido and friendship.
This middle-grade novel has a very gentle plot. Riley is an anxious, somewhat unobservant boy who makes relatable mistakes with his peers and in the dojo. The great value in the novel is Riley's narration of his anxiety — the Surge, as he calls it — which so many kids experience. At the beginning of the novel, the Surge overwhelms Riley, but as he grows, achieves goals, and makes friends, Riley gains control over the Surge. The plot doesn't resolve all the issues in Riley's life, but readers are reassured that people do grow and can manage their emotions successfully.
Eight Times Up is a solid choice for readers who enjoy sports narratives and may help readers struggling with anxiety themselves. It is empathically written without moralizing and would make a fine addition to the classroom library of any emotionally intelligent teacher.