Review
Lush
Anne-Marie Yerks
Odyssey Books, 2020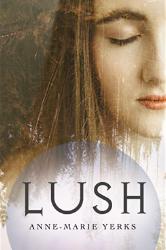 A century from now, Earth has been ravaged by ecological disasters. Political factions have divided former countries, and for many people life is mere subsistence. Eighteen-year-old Isla is about to finish her schooling and start her adult life — until she is abruptly pushed onto a different path. Dragged from her home, a historical re-enactment site where she preserves fragments of lost religion and material culture, Isla wants nothing more than to get back to her family and her animals; but the powerful agents of her community have a different plan for Isla's future. Can Isla escape? Will home even be waiting for her if she does?
Lush presents dystopia through women's eyes. Danger is a relentless presence in Isla's world; anyone — everyone — is a potential threat, and Isla can never let down her guard. This scratchy atmosphere makes for compelling reading. The action never lets up, and the storytelling is chilling. Isla's matter-of-fact voice makes the horrors of her reality so much more disturbing.
What I particularly liked about Isla is her cautiousness. Her straitened world demands suspicion and strategy. Isla doesn't come blazing out of difficult circumstances furious and ready to fight; she checks her inner resources, plans, and acts with intention. She is every bit a dystopian heroine, but one with whom many readers can identify. It's also refreshing to read a strong female protagonist interacting with other complicated female characters, not solely motivated by a romance plot. The author's implied critique of commodification, excessive individualism, and women's socially flattened roles adds dimension and shape to the novel, making it a strong selection for teen book groups.
If you enjoy dystopian fiction and admire characters who survive by their wits, Lush is a great pick!