Review
Wonder Women of Science
Tiera Fletcher and Ginger Rue
Candlewick, 2021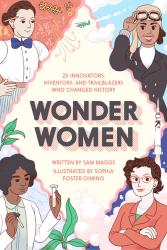 Wonder Women of Science by Tiera Fletcher and Ginger Rue presents an inspiring set of profiles of twelve women working in STEM (Science, Technology, Engineering, and Mathematics) fields. The profiles are diverse, encompassing women from different backgrounds and of different ages; the written presentations are supported by Sally Wern Comport's appealing illustrations, and the pages are bright and comfortably readable. It's a tight, well-paced package intended for readers age nine to twelve.
Representing fields from video game design to oncofertility (a new medical discipline), the Wonder Women share details about their childhoods, educations, career paths, and accomplishments. It's a fabulous celebration of individual ability and the power of research, collaboration, and the scientific method. The profiles also contain reflections on what the Wonder Women would tell their younger selves and their advice for today's girls looking to work in STEM fields. Every profile is supported by a brief fact-filled sidebar — such as an introduction to tapirs, an explanation of why astronauts need space suits, and an overview of how the human immune system works — meant to pique the reader's curiosity. These sidebars are very effective! The back matter also directs readers who want to pursue these fields to quick actions they can take to apply and extend their STEM-based interests.
What I loved about this book is its no-nonsense approach. It acknowledges stereotypes about girls and science and then encourages readers to think beyond the stereotypes. All the profiles underscore that there is no single right way to be a smart girl, to be girl who loves STEM fields, or even to get into STEM work. At several points STEM is expanded to STEAM or STEAMD (adding Arts and Design), demonstrating the importance of the humanities and applied arts to a field that is too often characterized as cold, mechanical, impersonal — and dominantly male.
Wonder Women of Science is a great example of science communication for preteen audiences. The writing voice is upbeat and playful without overdoing current slang, so the book will stay fresh for several years. The featured women provide a cross-cultural range of visibility that should allow more girls to see their own potential in these women's achievements — and open the door for readers to discover even more women in similar roles. This book is a "must" purchase for any library or classroom that aims to help girls — especially girls from historically under-represented backgrounds — get excited about STEM.