Review
You Can't Say That!
Leonard S. Marcus, compiler and editor
Candlewick Press, 2021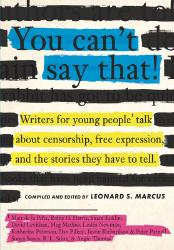 Censorship is a contentious issue. Leonard Marcus's new book, You Can't Say That!, helps tween and teen readers understand some of the nuance that makes the censorship of books — including restricted access and unfounded challenges — so problematic.
I have been working with the topic of censorship academically for more than a decade., so I am grateful to have the chance to review this book. Leonard S. Marcus is one of North America's top experts on writing for children and teens; with his deep and broad knowledge of the field, he is the perfect author for this title, and the book delivers.
You Can't Say That! is a collection of interviews between Marcus and thirteen diverse authors whose books have been challenged, restricted, or banned outright in the United States and Canada. The conversations are much bigger than censorship alone, of course. The authors talk about their backgrounds and influences, writing process, voice, and artistic goals. Any reader with an interest in what inspires writers, how writers work out ideas, or how writers work with editors and publishers will likely enjoy the broader discussion of this volume.
Although this volume is intended primarily for middle-grade and teen readers, the accessible presentation could make it a useful primer for anyone who works with young people, words, and books. It is a sensible choice for school libraries — although, ironically, it may not be purchased by librarians who have been involved in challenges — and for public libraries that serve middle-grade and teen readers. It provides an excellent and up-to-date supplement to broader texts on the topic of censorship and book banning, and may introduce readers to new authors and titles. A solid package all around.
Is You Can't Say That! going to the change minds of would-be censors? Probably not. But it is going to raise awareness of how censor work, and introduce these authors and their books to a large audience of young readers, inviting them to engage in critical thinking and independent decision making — and this is certainly the knowledge the upcoming generation ahead needs.