Review
The Tales ofTarya
Rachel Nightingale
Odyssey Books, 2020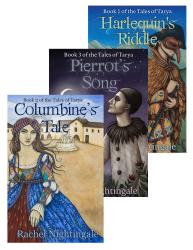 Tales of Tarya is a fresh, intriguing YA fantasy trilogy about teenaged Mina D'Aniello and a cast of travelling actors. When Mina discovers the manner by which the actors — players — create characters and stories, it becomes her destiny to set the world of Litonya right again — a quest that is both intimate and epic in its scale. Along the way, the trilogy provides philosophical musing on creativity and what it means to make art.
Tales of Tarya is cleverly built to draw readers in with a fast-moving story and then hook them with the deeper themes. The first book is Harlequin's Riddle, in which Mina leaves her oppressive home life to follow, and eventually join, a troupe of players. When she is initiated into the troupe, it is a truly magical moment. Mina's Harlequin, recognizing Mina's special gift for visiting Tarya, the spiritual realm, begins to both teach and push her to explore the space of creation. Her world is an exciting, glamorous whirl of acting, romance, and discovery — until her creations attract the attention of the authorities and she realizes the true cost of being a player.
The second book is Columbine's Tale, in which Mina learns more about Tarya and about the friends with whom she has thrown in her lot. Something evil is afoot: artists of all kinds — sculptors, musicians, dancers — are being persecuted in their communities and even confined in asylums. The masks players use to perfect their art seem to hide much more than her friends' faces, and Mina is soon confronted by questions about whom she can trust.
The final book is Pierrot's Song, in which Mina and her friends have only one goal: to stop the Red Assassin and restore all that has been stolen from artists. This book is especially magical, with a strong feminist strand of sisterhood and loyalty running through it.
The world of Litonya and Tarya, its heavenly extension, is finely realized. I particularly enjoyed the way the novels shifted points of view, giving readers different perspectives on action and consequences. I also enjoyed discovering the origin story of Eulalia and her sisters, a beautiful reinterpretation of the story of the Muses. Although there is romance throughout the trilogy, love realized through deep friendship and commitment underpins the characters' final achievements.
Rachel Nightingale has written an engrossing epic fantasy, tenderly told and rich with threads of commedia dell'arte and Shakespearean plays. Readers who love the performing arts should adore this trilogy. Teens who enjoy the work of Guy Gavriel Kay should like this trilogy — or this trilogy could be a stepping stone into Kay's work and the work of similar imaginations.