Review
I Am a Meadow Mermaid
Kallie George, words; Elly MacKay, pictures
Tundra, 2023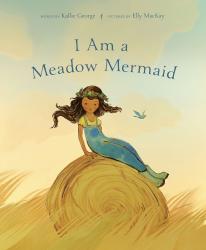 I fell in love with I Am a Meadow Mermaid by Kallie George (writer) and Elly MacKay (illustrator). A nameless prairie girl lives her mermaid life in a landscape of grasses, wildflowers, and winds. She finds adventure in the everyday until she hears the shout of a shipwrecked sailor. What does a mermaid need to make her days richer? Read this delightful story to find out!
This adorable picture book is an excellent selection for classroom and school libraries, as there are numerous potential cross-curricular ties (key themes include girls, friendship, and imagination). The very gentle gender bending at the climax of the story is also valuable.
If you are building a girl-positive collection, this gorgeously illustrated book is a MUST. I wish it had existed when I was a young reader — but at least I get to enjoy it now.